Student Acceptance Night
Student Acceptance Night is a great tradition at Holy Cross. Soon-to-be-LOTAs and their parents gather for a night of fun and excitement. During the evening, accepted eighth graders meet some of the faculty and students as they played games and danced, while the parents went to the theater to hear from a student panel and ask questions.
The Admissions Department organized the event, and the students and faculty worked together to help the incoming freshmen have fun while playing musical chairs, creating flower crowns, dancing, and using the photo booth.
Incoming eighth grader Julia Cardoza expressed, "I like how all the students were very welcoming, kind, and encouraged us to have fun."
Cardoza explained, "I didn't feel nervous anymore but instead felt excited for AHC."
Cardoza expressed the goal of the night, to help these with graders look forward to their first year of high school instead of being scared or nervous.
The ambassadors wanted to create an inviting environment. Sophomore Maeve Smith, one of the Tartan ambassadors described, "I enjoyed getting to know the incoming freshmen and helping them feel welcomed and accepted."
As eighth graders are making their final decisions on which high school they will choose, Student Acceptance Night definitely helps their decision. It is a great tradition that brings a welcoming feeling to all.
About the Writer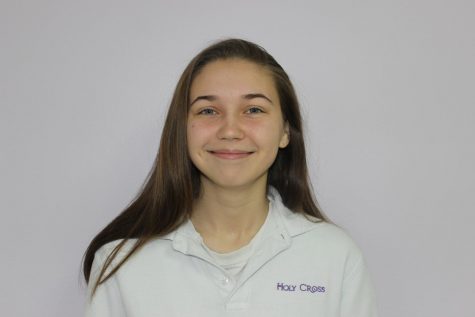 Rose Tierney, Reporter
Rose Tierney, class of 2021 is thrilled to be a member of Journalism class. She runs cross country and track. Her favorite place is Duck, North Carolina;...