Onyx Club Celebrates the Culture
Hang on for a minute...we're trying to find some more stories you might like.
Onyx Club brought to Holy Cross a powerful celebration of February's Black History Month.
Black History Month commemorates the lives and contributions of African Americans throughout time. Debrah Brown explained its importance, "African American history is America's history; it's everyone's history."
In 1976, President Gerald R. Ford stated, "in celebrating Black History Month, we can seize the opportunity to honor the too-often neglected accomplishments of black Americans in every area of endeavor throughout our history."
One of the most memorable ways Onyx celebrated Black History Month was an assembly. To start the assembly, a video created by London Hall was shown on three inspirational African American women. Hall's presentation focused on Michelle Obama, Serena Williams and Debrah Brown. Hall explained that all of these ladies "dealt with sexism and racism." Hall continued, "through their ability to overcome these obstacles; they have become role models for younger black girls."
During the gathering, a presentation on the contributions of African Americans in the music industry was also given by Munachiso Nwokike. She spoke about influential artists through the decades, such as Ella Fitzgerald and Aretha Franklin. Through her speech she elaborated on the messages conveyed by certain singers. She described their messages of "self-confidence, self-improvement, and embracing aspects of African American culture; while going against the destructive culture of tearing down others for one's own benefit."
Onyx Club also invited Holy Cross alumna Kimberly Peeler-Allen to the assembly. Peeler-Allen was invited by Brown, the club's moderator, because she is a "strong woman of color who is the co-founder of an organization that helps African American women in the political field."
Peeler-Allen gave an inspiring speech sharing her experiences of her four years at Holy Cross and her career influencing the election of African American women. She explained, "we are all leaders" in some way, shape, or form.
Even though Onyx Club mainly focuses on the African American community, Brown explained that it is a "vibrant club that encourages people of all cultures to come together and talk about issues that concern them." She continued, "It's a fun club where girls can celebrate, embrace and expand their knowledge of African American history and culture. The discussions are lively, the members learn and hear from each other's personal experiences as well as discuss cultural and social issues surrounding African Americans in our country."
Onyx Club is an important group at Holy Cross, because it embodies the school's mission statement, which values diversity. Although the club is comprised of primarily African American students, it is open to everyone.
About the Contributors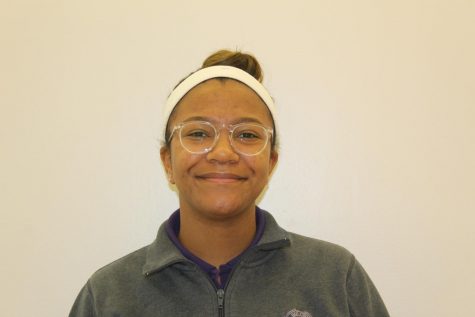 MacKenzie Blount-Rich, Reporter
From the class of 2020, MacKenzie Blount-Rich is excited to be a member of multimedia journalism. She is a pescatarian who also doesn't eat dairy. She...