Hip-Hop Club at a Glance
The vibrant and hard-hitting performances of the Hip-Hop Dance club are choreographed by senior Ivy Peng.
Peng started her dance journey as a ballerina in China. However, she eventually grew tired of this dance genre and transitioned into a new style, hip-hop. As Peng moved from China to the United States she brought her dance moves along with her. To Peng, "ballet became boring and lacked passion. I wanted a more upbeat style of dance."
When she began her four years at Holy Cross, Peng was inspired by dance teacher Donna Reese and was given an opportunity to perform and develop her dance skills. Reese explained that, "in the beginning when Ivy approached me with the proposition of starting a hip-hop club I loved the idea. Ivy stayed determined to form the club so during the fall semester of 2017 I felt that I should make time so that this young lady could have a chance to form something based on what she is so passionate about."
In her years as a Tartan Peng has successfully displayed her talents through dance concerts, the Poms team, and assembly presentations. In 2017 she created Hip-Hop club as a platform for any girls who are interested in dance, whether or not they take dance classes.
However, since Peng is currently a senior, her days of performing for and entertaining the Holy Cross community are coming to an end. Therefore, the club is seeking a successor. "This role is open to consistent, talented, and eager girls who want an opportunity to choreograph and who are currently member of the club," Reese elaborated.
Reese, moderator of Hip-Hop club, encourages students to "follow or spark their passion for dance by joining the club, and pursue them. Dancers come in all forms no matter their abilities, disabilities, or walks of life; everyone has the ability to dance!"
As Peng formulates her last piece and begins to depart, she leaves this message for all those interested in joining her club, "Keep dancing!"
About the Contributors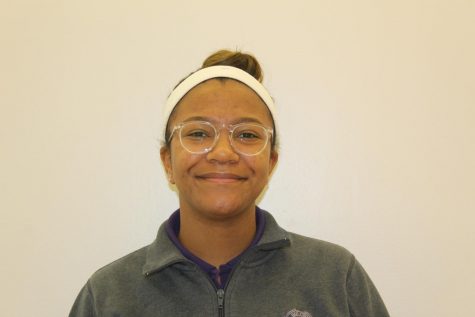 MacKenzie Blount-Rich, Reporter
From the class of 2020, MacKenzie Blount-Rich is excited to be a member of multimedia journalism. She is a pescatarian who also doesn't eat dairy. She...