The Pros and Cons of a Direct Service Requirement
At Holy Cross, students are required to complete a total of 75 hours of service in order to graduate. These service hours, however, have a certain criteria they must meet.
"It has to be direct face-to-face interaction with one of our three target populations, which would be youth, elderly, or disadvantaged," explained Director of Social Justice Maika Walker.
Holy Cross emphasizes the importance of service to students and encourages participation.
"As a Catholic school it's absolutely something that I think is necessary and as it reflects our values," said Director of Counseling Julie Ritter. "Volunteering in the community also demonstrates civic awareness and empathy for others. I strongly feel that it helps form us as individuals."
Any hours a student completes that do not fit the criteria are not counted towards the student's total requirement, but can be counted as "overage."
"We never want to discount how generous it is to do indirect service," said Walker, "because that's really important too, but part of the core mission of our service requirement is that students get the opportunity to have face-to-face interactions with the people who are actually receiving the service."
This rule can be an extra challenge for some students, whether it be scheduling or the difficulty of direct interaction with people they most likely do not know. Sophomore Sibel Ozan said this particular restriction makes accomplishing the requirement rather challenging.
"As someone who has a pretty busy schedule, it is difficult to fit in service hours, especially when you have to go in person and see them face-to-face and spend time with someone," Ozan said. "Also, I'm not great at holding conversations so it could be very difficult."
Walker recognizes the difficulty in direct service and believes that the challenging aspect is part of what makes it so important.
"I think that's really a great foundation for people to understand social justice issues so that it becomes more than just an issue, but, who are the people who are the people who are really affected by social justice issues," Walker noted.
Walker also assures students that direct service is not as intimidating as it may initially seem.
"I think once you start doing it, it can take some of that fear away when you realize that people just really appreciate your presence and really just appreciate that someone is there to help them, and so you get over that initial uncertainty of interacting with people," she continued.
While most students understand this sentiment, some still find issues with these requirements.
"It does definitely make sense why they want us to do direct service because there is definitely a difference in the connection that you can gain from direct versus indirect," sophomore Meredith Nelson inferred. "However, I do wish that indirect worked because there are a lot of opportunities."
Another challenge students may encounter is matching certain requirements set by service sites in order to be able to do direct service.
"A lot of places have age requirements to work with direct opportunities, and especially when you're a freshman or sophomore, it's harder to meet those requirements because you're not old enough to work directly," Nelson continued.
Nelson also referred to the annual Day of Service, explaining that it sometimes involves service that students would not be able to log. She felt that the Day of Service should better expose students to the type of service that is requested of them.
"A lot of the things that we do on Day of Service, we're not able to actually do for service hours," Nelson explained. "So I think if you're using the Day of Service as an opportunity to expose us to new things, expose us to things that we're actually able to use."
These challenges are also recognized by Holy Cross administration, but are also seen as a learning experience.
"I feel like it'd be more challenging to find those places but I think once you start looking you can actually see that there's a lot of places that are offering that opportunity," Walker stated.
As for finding service opportunities, Walker recommends that students participate with friends or family as well as find something they enjoy that they could use when serving.
"Anything that you feel talented or gifted in, that is something that you can absolutely use to bless other people, so I always try to encourage students to think about what excites them and what is something that they love to do, and then trying to find a place where they can actually use those gifts and talents."
Ritter also emphasizes the importance of direct service in the personal growth of a student.
"The human interaction and people skills component of direct service is crucial for developing real world skills," Ritter explained. "That exposure, that practice is so helpful, even if it's difficult."
Many students at Holy Cross enjoy participating in service opportunities, but it is not always possible to fit it into their schedules. Nelson feels that allowing for indirect service would allow students to go beyond the service requirement and possibly include service into their personal lives.
"With our schedules," Nelson explains, "we're not able to do the minimum and go beyond that. A lot of people are only able to do the minimum."
About the Contributor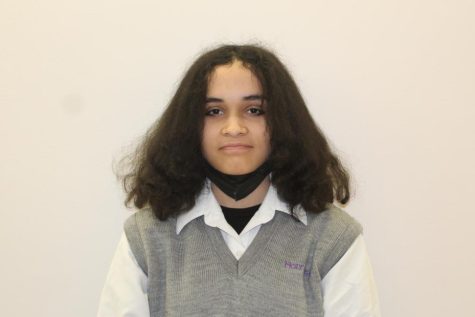 Charlotte LeGrys, Reporter
Charlotte LeGrys is part of the class of 2025 at AHC. She has interest in several subjects, art being a main interest. Charlotte also has a passion for...