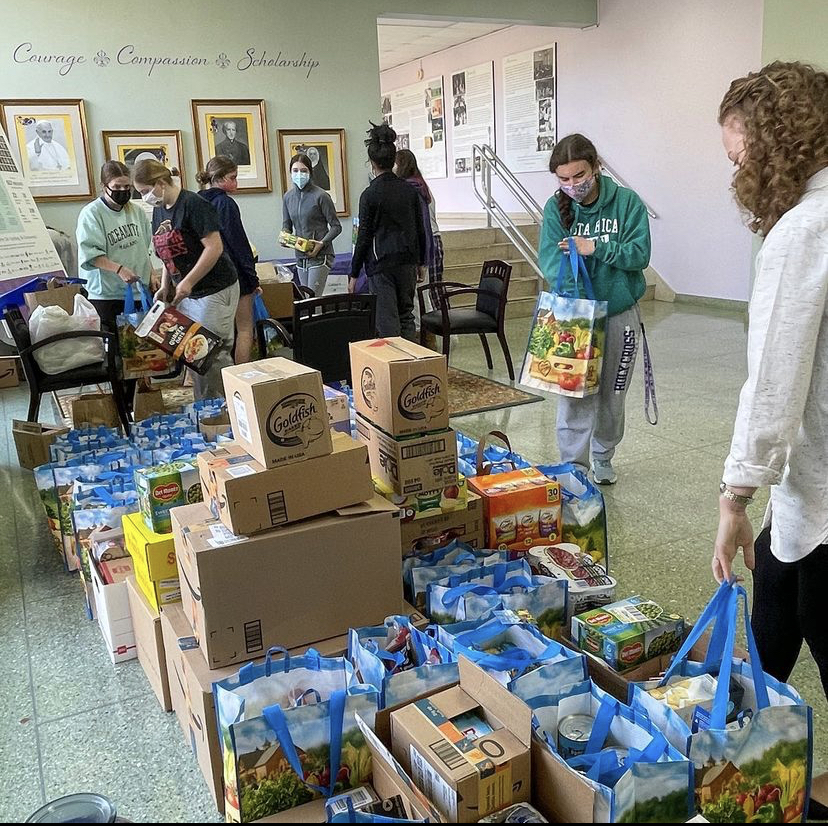 Danielle Ballantine
The Spring Break Service Challenge was held at Holy Cross this year. It was an opportunity for students to achieve all their service hours when many direct-service locations were restricting volunteers. The LOTAs also learn about the struggles of less fortunate people in the world.
The service challenge was enthusiastically led by the Director of Social Justice Emily Teter and consisted of various activities, including making blankets, sandwiches, and cards. Students had a call with the Sisters of the Holy Cross and made appreciation videos for faculty and staff.
Teter believes that an important part of one's faith, is their service for others in the world, especially for students.
"People are searching for ways to live out their faith, and service allows us to do that and serve as Christ serves," Teter said. "It is important because it helps us to live our faith in a more apparent way."
The service week included hands-on activities and opportunities to learn about communities and the real struggles of the world.
"The main lesson I took from the service challenge was that you should use your privilege and resources to help others who are less fortunate," sophomore Carly Stocks disclosed. "We need to be able to give back to others in our community."
Teter used the service challenge as a way to teach students about how faith and service intertwine.
"Our faith interacts with society and our faith is concerned about the human person. Faith and service go hand in hand," Teter explained.
The activities were varied and enjoyable for the students. It allowed them to make items that will be greatly appreciated by whoever receives them. Doing a hands-on activity puts into perspective how something that some might take for granted is very much needed in another person's life.
"My favorite activity was when we made sandwiches because it was nice to be able to more directly help people. And giving them the sandwiches was giving them a meal," sophomore Katie Blick expressed.
The week focused on the needs of others locally and globally. Students had a chance to learn about how people budget their money and time.

"My favorite activity from the service challenge was talking with the Holy Cross students in Ghana. I thought it was important to talk with members of our community that we normally don't have the chance to converse with," Stocks shared. "I learned that bonding and building relationships with those students can help us gain a deeper understanding of both our faith and the world."
During the pandemic, many were unsure of how school service hours were going to be completed. Fortunately, Holy Cross gave students many different ideas on how to fill their service requirements.
"I think it's helpful to see that, even during a pandemic, we can serve. We just have to be creative," Teter stated. "I believe it showed us how to serve, not just from our homes, but from our school. And how to serve the less fortunate in meaningful ways, without going to where they are."
Students know how important it is to participate in service. Having the service challenge helped students realize more aspects of service and learn valuable life lessons.
"It's important to understand that people don't always have a good living situation and it's important to help them in any way we can," Blick admitted. "I believe that students should participate in service because it's important that we understand why it's necessary and to help others and doing that is an important part of being a good person."
Part of the Holy Cross mission is meaningful service that makes an impact on the community and students.
"It is important for students to participate in service because we need to realize how we can all make a difference in the world. One small act or activity can better the lives of a person or community," Stocks revealed.