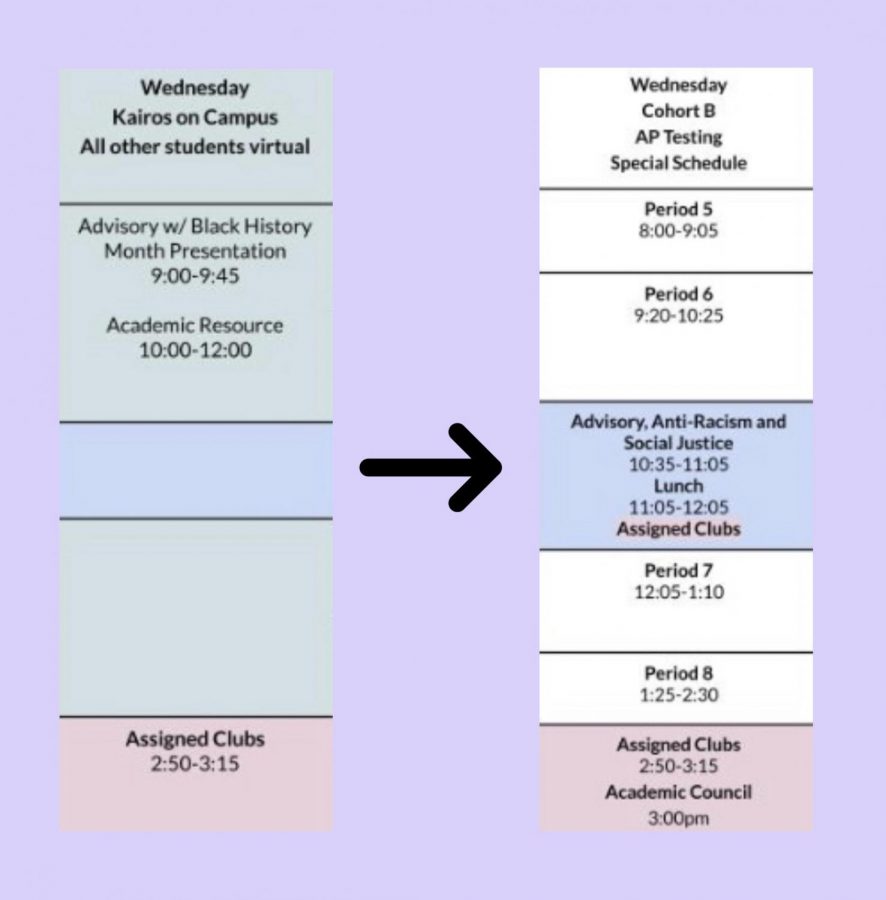 Since the beginning of the pandemic, the school schedule was changed to four days of synchronous classes each week. However, during the last five weeks of the 2020-2021 school year, five-day weeks are making a comeback. The change back to the prior schedule was an adjustment as students had appreciated the mid-week no-class day.
Assistant Principal Lindsey Tonks shared that going back to five-day weeks for the remainder of the school year is beneficial for the AHC community as a whole.
"We are returning to school for five days a week so we can provide the entire community with the opportunity to feel out what the start of the school year will feel like in August," Tonks mentioned.
Although seniors do not have to worry about adjusting back to AHC's schedule, they did appreciate the asynchronous Wednesdays.
Senior Maeve Smith explained that she enjoyed having no classes on Wednesdays.
"It gave me time to do other homework and then also time to just have a break to myself because honestly virtual school or hybrid is so difficult to keep up with," Smith expressed. "So, having a break in the week was so relaxing."
Senior Hathaway Packard disclosed having a similar opinion.
"It gave me some extra time to get things done and it was nice having that break in the week. I feel like it added a good balance to school," Packard admitted.
Despite the helpful break, returning to classes on Wednesdays allows AHC to come together.
"We feel that it is important that for three weeks we come to school, with all students invited, so we are able to close out the school year as a community," Tonks emphasized. "It will be wonderful to have our faculty, staff, and students together to wrap up the end of the 2020-2021 school year."
Packard and Smith agreed that given the opportunity to come into school for their last week allows them to feel more like a school community.
"I am very thankful we have a full week, even though I love Wednesdays, but I haven't seen our full class in a long time," Packard stated.
Smith's opinion was along the same line.
"I haven't seen so many people in so long, I see some girls today that I haven't seen since last year," Smith said. "I think it will definitely make us closer, hopefully, if only a little bit in the last week because we're all leaving, but really excited about it."