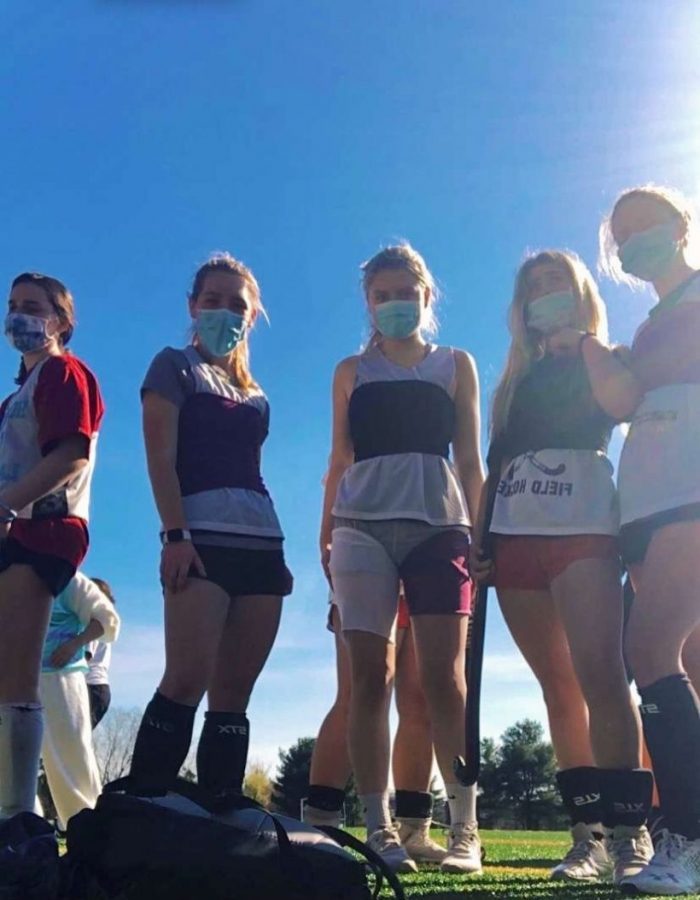 Maggie Rose
Athletes at AHC have to adjust to new protocols if they want to participate in AHC athletics this year. From the consistent mask-wearing to the least amount of contact possible, it is considerably different to play sports, especially contact sports.
Sophomore field hockey player Maggie Rose shared some of the difficulties she experiences daily.
"Playing with masks on feels like you are drowning," Rose stated.
This might sound dramatic, but players explain that running outside at your max speed while inhaling a mask is not ideal, making it harder to breathe. Rose explained that it affects an athlete's performance.
"When I am doing high intensity running it's already hard to catch my breath. But when you put a mask on top of it all, breathing becomes nearly impossible," Rose described. "Mask just restricts my performance on the field by distracting me and not allowing me to catch a breath."

Holy Cross is part of the WCAC athletic conference and has been following their protocol measures for safe athletics during the pandemic, as well as following all county and state guidelines. There are restrictions on the number of people on a field or in a gym, mandatory masks, guidelines on safe distancing, and other safety measures. While Tartan athletes are adapting to the challenges of the new COVID safety protocols, they sometimes wish there could be modifications.
"I would definitely change that we don't have to wear masks while running outside, but still have to wear them on the sidelines, but the coaches would always have to because that makes sense," sophomore cross country runner Kayla Norris commented. "But when you are actually running and playing in a game we shouldn't have to wear out masks. Because when we don't have our masks on we cant play to the best of our abilities."

Norris has some difficulty with the mask protocols but understands that they are in place for team safety. But "you can't run at your fastest speed with your mask on because it's really hard to breathe," Norris noted.
Most of all, though, the athletes are grateful that Holy Cross made it possible for each team to have season during the spring semester. Athletic Director Dena Rapoport said that it is all about adapting to non-ideal situations.
"A lot of it is just staying on top of all of the changes. I try to tell people that things change either every minute or everyday there is something new," Rapoport exclaimed.
AHC student athletes are adapting to these extra precautions, and above all, they are excited and appreciative that they have a season this year.
"I'm really excited for the rest of the seasons," Rapoport affirmed.