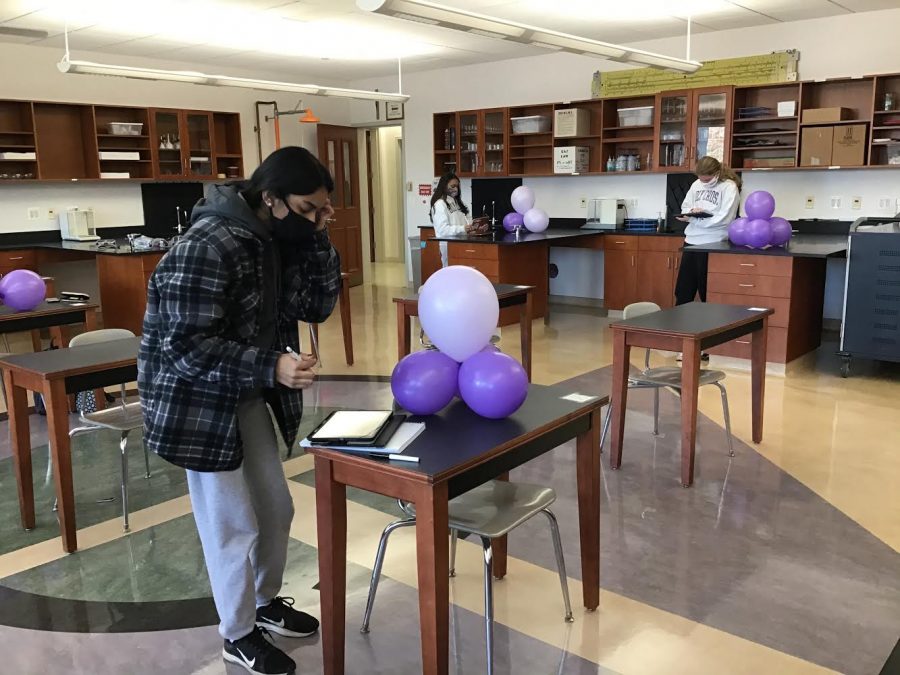 Sally Craven
Throughout hybrid learning, students and faculty have had a challenging time conducting labs in chemistry class. Relying heavily on virtual simulations and information from in-person students, at-home LOTAs are are not able to get the full lab experience.

Chemistry teacher Sally Craven shared that labs are a crucial part in chemistry classes.
"Chemistry is a lab based science. We can not directly see atoms or count them we only know what we know by inference, by supposing, and then we go and find evidence," Craven said. "Even with the virtual simulations and things, I have had to accept that as a lab experience and it is not really that. You have to be able to experience the laboratory."
Although hybrid learning is not the ideal situation for labs, Craven has adapted.
"It was very challenging with the hybrid environment, setting up an experience, because labs require hands on. I had to think outside the box," Craven explained. "In the end, I had to realize that even if it wasn't a perfect experience it was still a laboratory experience, and something is better than nothing."
Sophomore Tyler Washington agreed with what labs require and shared her experience with participating in a lab at home and in person.
"I like doing labs, I like to do hands-on things," Washington stated. "If you're in the classroom it's easy because everything is in front of you and it's a lot easier to get the information. But I was home for one of them and I think it was definitely a lot harder to figure out what's going on."
Sophomore Anna Miller agreed that engaging in a lab at home can be more difficult.
"It was harder because we weren't able to see the actual experiment so it was hard to gauge what was happening and it was also harder to just be given the data and then have to complete the work from there," Miller expressed. "It wasn't as easy to make conclusions about the data since we weren't able to really see or understand the actual process."
To create a more inclusive experience for future and upcoming labs, Craven has created a plan given that more students are coming into the building.
"I feel like we are back in the classroom more regularly now, it will be easier," Craven mentioned. "What I'm going to do is teaming it. The person in the room will be manipulating, the person at home will be sharing the data but also participating, still having to understand, because the next time we do the lab then that person will be in the room and they'll get a lab experience too."