More Time to Serve
Philanthropic work is a great way to help others, and with more time due to COVID-19 closures, and with an extended list of service opportunities for LOTAs, now is the opportunity to get started.
In this extended list are more approved opportunities for students to earn hours. "There are many ways listed on the indirect service list, lots of people need assistance right now," noted Emily Teter, Director of Holy Crosses Social Justice program.
A new service opportunity this year is making friendship bracelets for cancer patients and the elderly. This is an excellent way to show them "that people are thinking about them, and to give them an accessory to keep their spirits up," junior and creator of this new service opportunity, Claire Stocks explained.
"I wanted to include this as a service opportunity because making friendship bracelets is a fun craft and could really mean a lot to those receiving them," Stocks added.
Several websites offer ideas of assistance to others during COVID-19. The Youth Changing the World website. (https://ysa.org/covid/) is a helpful resource. It suggests different service ideas, for instance "Spread cheer and positive messages in your neighborhood by creating sidewalk chalk art, painting kindness rocks, or organizing a teddy bear hunt."
It is important to remember, especially during this time, that there are many people that need help. Making friendship bracelets or checking in on isolated family and friends are good ways to get involved right now.
Other examples include "shop for an elderly neighbor, offer to mow their lawn, give blood if you are old enough," Teter listed.
Some acts of service don't necessarily get recognized for service hours, but are equally important. Teter suggested, keeping those who may be deprived of visitors during this time in our prayers is an act of service in itself.
"Our real service starts at home, being patient with others including you siblings etc." Teter commented.
About the Contributor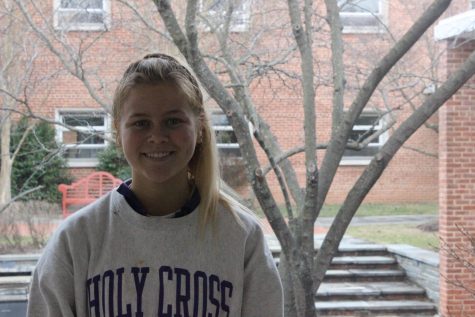 Cassie Fredell, Reporter
Cassie Fredell, from the class of 2021, is excited to learn more about journalism and photography. She plays soccer at The Academy, and enjoys hanging...