Get Ready to Cheer on the Poms
The excitement was high before the Poms team stepped into the gym for their halftime performance. The team came jogging out, their sparkly white pom poms raised high in the air, and their smiles wide.
"Are you ready?" yelled freshman Katiushka Howell to the audience watching from the benches.
After losing all but one member from last year, the poms team had a lot to do this season. "This year we only had one returning dancer, so everyone was on the same page going into the first practice," stated junior Mikayla Day.
In the past the team has entered competition for awards–and won several first place medals–but with a majority of the team being newcomers this year, they have decided to focus on building the team instead of focusing on a competition.
The team generally practices Mondays and Thursdays, with a halftime performance during home basketball games. Since a majority of the team is coming with minimal experience in dancing, the multiple practices make learning the dances easier. "The dances are definitely challenging at first but after a ton of practice you start to get the hang of it," Day said.
The team has been part of the Holy Cross sports culture for several years. Latin teacher Rachel Mullervy has been the coach for five years, while Director of College Counseling Kelly Tarini joined as co-coach this year.
Mallervy and Tarini also work with the team to make the dances unique, and easier to learn. "This year [in the] pep rally I choreographed most of the "Confident" routine, but usually it's a group effort." Mullervy explained.
There are also opportunities for the students to choreograph the routines. "The second routine we performed was completely [choreographed by] Alissa Vetter," Mullervy added. Vetter is the only returning dancer this year and the team captain.
The team is also incredibly supportive and described as, "a close knit family" by junior Mackenzie Peacock.
Day concurred that the team is, "always willing to help and support you."
Since nerves and stress can be high before a performance, having a supportive group makes a big difference. "We all have each others backs. Performing is more fun than anything," Peacock stated.
After the team finished their three minute routine they came off the court elated. "That was great everyone!" Peacock shouted out.
About the Contributor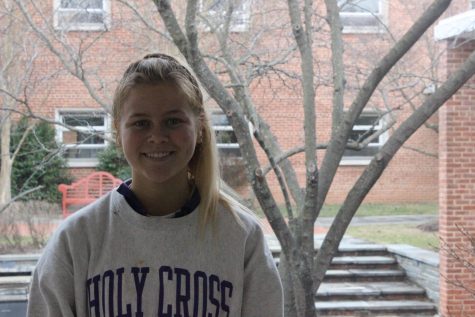 Cassie Fredell, Reporter
Cassie Fredell, from the class of 2021, is excited to learn more about journalism and photography. She plays soccer at The Academy, and enjoys hanging...