Holy Cross Spreads Breast Cancer Awareness
Holy Cross is constantly thinking up new ways to spread awareness of Breast Cancer. From games to tag days, the Tartans highlight information about the disease.
A featured event was Gonzaga's varsity soccer team playing Dematha's at Holy Cross on Thursday, September 27. This game, along with a two-dollar paid tag day, were efforts to spread awareness of breast cancer.
All of the money collected from the tag day was donated to breast cancer prevention efforts. Assistant Athletic Director Kellie Looney stated, "The money collected went towards a donation from a Holy Cross Community for breast cancer awareness."
The foundation that the money was donated to is The National Cancer Coalition Fund. Holy Cross raised a total of one thousand dollars to support their efforts.
The Dematha versus Gonzaga game took place on Holy Cross's upper turf field. Athletic Director Dina Rapaport stated, "In previous years, our varsity and junior varsity soccer teams have participated in this event, just as other WCAC schools. This year we were asked to host."
Holy Cross used this game as yet another way to support breast cancer awareness. There was no entrance fee into this game, however, money was still raised. Rapaport explained, "We had a small pizza sale, and also sold Kona Ice. All of the money raised is being pooled in one donation in support of breast cancer."
Junior Sasha Franco-Carmona explained, "I think that Holy Cross using interests that students have such as sports games and free dress days, is very smart. It is a nice way to make students feel interested, invested, and involved in spreading awareness."
Breast cancer is a type of cancer that many families have a loved one struggling with. Holy Cross makes their best effort to spread awareness of this disease.
About the Contributor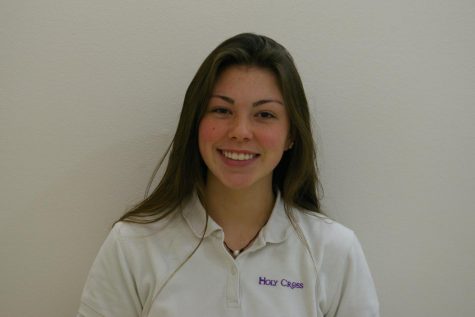 Reilly O'Leary, Reporter
Reilly O'Leary is a student in the Holy Cross class of 2020. She is Vice President of three clubs: the art club, the design club, and the public health...